1963 Ford Thunderbird Convertible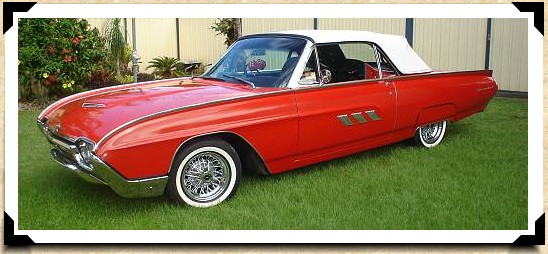 My Thunderbird is a real head turner !
The 1963's were not only the last of this body style but offered a more balanced design with Center Mounted Hash Marks on the door, Door Panel Courtesy Lights, and an added Crease line in the front fender and door.
This resulted in many feeling that the 1963 T-Bird is the best looking "Big Bird".

Designed by Ford's Bud Kaufman to give the new 4-seater Bird the appearance of a sleek Two-Seater with a very long deck. Twin Headrests at the cover's forward edge fit over the regular Bucket Seats, which were raised, to flow back to the rear deck.
The cover could actually be left on so as not to interfere with the Power Top operation . Kelsey Hayes Chrome Wire Wheels were Standard - even the spare!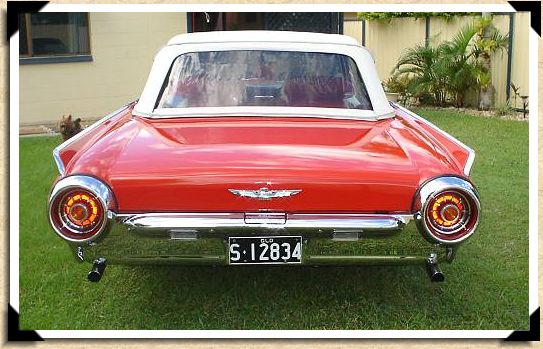 Influenced by the space race -
Ford's Bill Boyer designed youthful, huge Rocket Style tail lights, Aircraft-like Gauges, Swing-away Steering Wheels , Color-Coded Seatbelts, and Bucket Seats, so you could strap-in and fly off.
My T Bird is now for sale - the 390 motor runs very quietly.The automatic hood machinery works fine and the top is in v good condition. The brakes were recently overhauled, rear bumper re-chromed and the battery is new. Some of the weatherstrip has been replaced and there are some new pieces still to fit.
Price - SORRY my Lovely T Bird is SOLD ! -
For Affordable Web Page Design That Sell, like this one - from as low as Aus $80 - contact